To aid in the conservation of energy in a building it is vitally important to control the movement of air in and out of the building envelope. Building air tightness is a term used to describe the efficiency of a structure to control the unwanted loss of air containing precious heat energy out of the envelope to the environment.
Airtightness testing gives an efficiency score in passive air changes per hour caused by draughts or unwanted losses to the outside. Modern air tight buildings are generally ventilated by a pumped air heat exchanger HRV or MHRV for short rather than a wall vent or passive ventilation system.
Here we show a new building with some of the airtightness measures in place before they are covered by the finishes such as plaster, internal insulation and plasterboard.
The work in the images was completed to a high standard by local Air Tightness contractor Seamus Redmond from Ballycullane Wexford This should give an excellent test showing that the buillding is free from unwanted losses of air and valuable heat to the outside.
Windows are taped and sealed to the blockwork.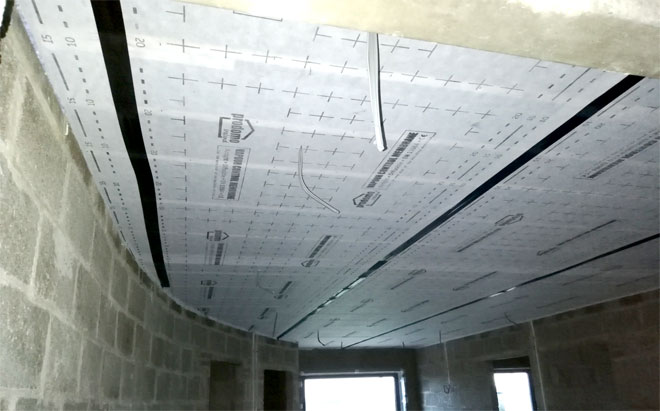 Upstairs ceilings are covered in breathable membrane and taped to seal them.
Detail showing a sealed membrane at the attic door. An airtight trap door will be fitted also.